How To Design Your Dream Van
When it comes to designing your dream van conversion, there are plenty of layout and feature options available. Everything from the kitchen design to the bed configuration is up for consideration! Depending on the size of your van or bus and the space you have to work with, you'll need to think about many different arrangements to make sure that you can fit exactly what you need.
From outdoor pullout kitchens to sofa beds, let's dive into some van conversion options that can make the best use of available space while being as comfortable and practical for minimalistic living as possible!
Campervan Bed Ideas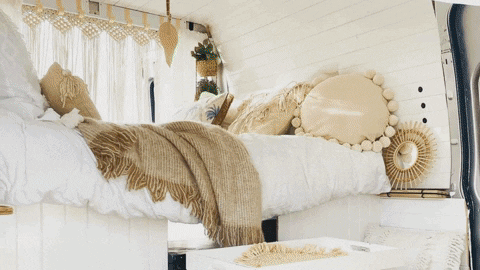 Perhaps one of the most important parts of your van design is the bed and lounge area. And this can indeed take up plenty of your available space. Most van or bus layouts have the bed placed towards the back allowing for more room around the entrance area. Depending on how big your van is, often a double or even queen bed can be permanently made up to stretch across the entire back section. A major benefit of having a fixed bed is that you can kick back as soon as you park up at camp without having much setting up to do.
However, for those with a smaller interior, including double use furniture in your design is a way to increase the functionality of van life living. There are plenty of van conversion layouts which utilise different styles of sofa beds. Having a sofa bed means you can have a couch or even bench seats with a table or workstation that all folds down into a bed. While this option means that you have to make your bed up each day, it allows vans with less space to have both a bed and a lounge or dining area in one.
Kitchen Options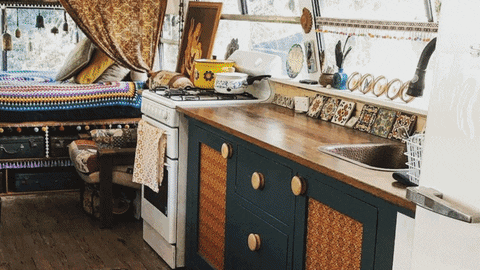 Kitchens can take up as little or as much room as you please. Some larger buses have almost full-sized kitchens with an oven, microwave, sink, gas hot plates and long bench space. You also need to consider your own individual needs. For example, if you plan on free camping often, then gas appliances are more convenient as you don't need electricity.
At the other end of the scale, there are pullout kitchen designs that many vanlifers have in smaller sized vehicles. Usually a type of large drawer, either at the side or back of the van and gas powered appliances. This option is more akin to a traditional camping style setup. It is a great space saving idea and also means you can enjoy a romantic outdoor barbeque every night. Of course, the downside is that you may not always feel like cooking outside, especially if it's raining or cold.

Toilet and Shower Options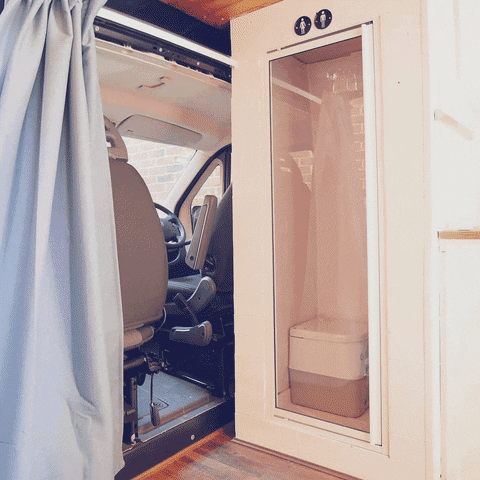 If you plan on doing a lot of free camping or just prefer not to use public toilets, there are a number of toilet and shower options. Keep in mind however that not all of them are suitable for small vehicles. Some high roof buses have a properly installed shower and toilet inside a compact cubicle. This obviously requires more thought and expertise to install but is definitely appreciated on those nights spent out bush.
On the other hand, you can actually fit a toilet in almost any size van with the addition of a porta potty or portable toilet. These compact box toilets can slide under a bed or be stowed in a large drawer and only used when needed. They can be very useful for free camping or for places that require you to be self contained (like most National Parks and RV Friendly sites). Similar to a traditional toilet and shower setup though, you will have to discard your own waste. The dreaded dump point can be a dirty job and if that sounds too icky for you, then you can simply design a van without a bathroom. Caravan parks, campgrounds and rest stops often offer clean shared amenities.
So, how do you decide on your van design?
There seems to be endless van conversion designs and layout options. And with so many variations, it all comes down to size of your van or bus, and your needs and priorities. You could start by writing down your needs, priorities and the pros and cons for each of your design ideas. Fitting out a van perfect for your van life is a creative process that starts with the design. So take your time, think a lot, make a few sketches and don't be afraid to ask for feedback. With the variety of options available, you can virtually make anything work for you and your van!